LR Lately
A Travel Blog by Lakes Region Airport Shuttle
Subscribe to LR Lately
|
View All Posts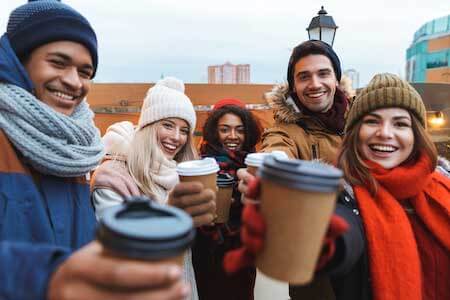 Lakes Region Airport Shuttle
Winter Festivals in New Hampshire
Posted On: 01/17/2020
One of the best ways to survive the long and cold winter is to embrace the magic of the season by attending some of the many carnivals that take place in New Hampshire. This New England state provides a stunning backdrop for winter fun and a festival is a perfect place to immerse yourself in the beauty and fun of the season. Here are four of the best winter festivals in New Hampshire to consider attending this year.
18th Annual Keene Ice and Snow Festival: This event is now in its 18th year, a testament to its popularity. This year's event is scheduled for Saturday, February 1. The Keene Ice and Snow Festival is perfect for families, featuring a winter carnival with snowball fights, crafts, train rides, and ice sculpture competitions. Visitors can even take pictures with various characters such as polar bears and ice princesses. The free event is held at Central Square in downtown Keene.
Dartmouth's 110th Winter Carnival: A tradition like no other, this is one of the most beloved winter festivals in New Hampshire. The three-day event kicks off on Thursday, February 6 with the evening opening celebration and wraps up with a 99-cent ski day at Oak Hill and the Skiway on Sunday, February 8. Dartmouth College is the center of the action and the carnival is open to students as well as local residents and visitors. Be sure to check out the human dogsled race, the ice carving demonstrations, and the polar bear swim.
Wolfeboro Bay Winter Carnival: This carnival is scheduled for February 22 and February 27 - 29 with special events held throughout Wolfeboro. You will delight in the ice-skating, sleigh rides, snowshoeing workshops, animal tracking, and more. Don't forget to stop by the pancake breakfast and indulge in the variety of special treats available at local shops and the post office. A highlight of the event is the Wolfeboro village that is set up right on the ice in the harbor of Wolfeboro Bay.
New London Winter Carnival: New London is your one-stop-shop for winter fun this February, with special events held throughout the month. You will not want to miss participating in the ice-skating festivities, wagon rides, and a variety of kids' activities. An ice hockey tournament, a s'mores party, and an outdoor dinner with Jack Frost are also distinguishing offerings of this themed carnival.
Remember that booking a private shuttle service is an easy way to get around to the festivals without having to worry about winter driving conditions. Our team of professional and attentive drivers is on hand to ensure a safe and fun trip as you enjoy our festival shuttles through New Hampshire this winter. Reserve a Lakes Region Airport Shuttle to festivals in New Hampshire today!