Center Harbor Transportation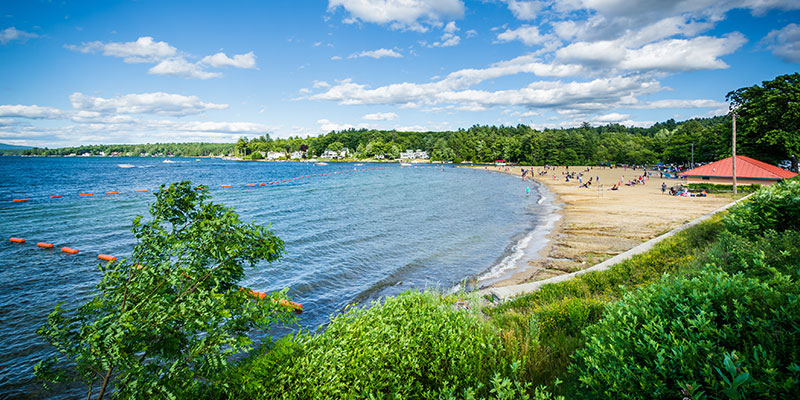 Nestled between Lake Winnipesaukee and Squam Lake, Center Harbor is a lake town that thrives during the summer months. If you're head to Lake Winnipesaukee for the summer, you probably already know Center Harbor. Center Harbor was the original resort town in the area and is located in the middle of Meredith and Moultonborough, which is how it got its name. If you need a ride, book a Center Harbor shuttle today!
We have a fleet of SUVs, minivans, and passenger vans for all your transportation needs in Center Harbor. If you want an airport shuttle from Logan Airport or Manchester, a Lakes Region Airport Shuttle is the easiest way to travel. While we're best known for airport transportation, we offer shuttles to hotels, resorts, and private charter services throughout Center Harbor.
Want to check out the local landmarks and things to do in Center Harbor? Lakes Region Airport Shuttle provides car services in Center Harbor to landmarks, including:
Castle in the Clouds, Moultonborough
Kona Fountain
Nichols Memorial Library
Raines House and shopping center
Smith Bridge, Plymouth
Center Harbor Inn NH is a favorite getaway in the area and Lakes Region Airport Shuttle can help get you there and to any Center Harbor lodging. Hotel shuttle services Center Harbor include:
Center Harbor Inn, Center Harbor, NH 03226
Savoie's Lodging and Camping, Center Harbor, NH 03226
The Inn at Mill Falls, Meredith, NH 03253
Squam Lake Inn, Holderness, NH 03245
The Inn on Golden Pond - Holderness, NH 03245
Get wedding transportation to hotels in Center Harbor and book a ride with Lakes Region. Reserve you're next airport shuttle to Center Harbor, NH, with Lakes Region Airport Shuttle. We offer airport shuttle services throughout the area including Center Harbor, Meredith, Moultonborough, Plymouth, Holderness, Ashland, and Sandwich. Book a Boston to Center Harbor shuttle bus and start your vacation right.
Relax… We'll Drive!
Whether you headed to the Lakes Region for summer fun or a winter outing, we hope you enjoy you time and book your Lakes Region Airport shuttle today! Contact us for all your travel and private charter needs in Center Harbor, NH. Book a shuttle for weddings, private get togethers, family reunions, business retreats and conferences, bachelor & bachelorette parties, and summer lake outings or winter ski weekends.
Connect with us!
Receive e-mail offers and updates or follow us on Facebook!
Why Choose Us
Flexible Charter Services
Manchester to Boston Shuttles
Safe and Reliable
On-Time Guarantee
Convenient and Affordable
Book Secure Online Reservations 24/7