LR Lately
A Travel Blog by Lakes Region Airport Shuttle
Subscribe to LR Lately
|
View All Posts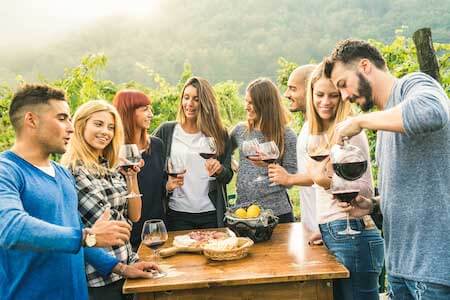 Photo Credit: Lakes Region Airport Shuttle
Wineries Near Lake Winnipesaukee
Posted On: 03/27/2019
There's nothing quite as relaxing as enjoying the scenery of the Lakes Region than with a glass of wine. Despite the short and cool growing season, wineries around Lake Winnipesaukee in New Hampshire are on the rise. New England wineries use locally sourced grapes, fruit, honey, and flowers with old world techniques and oak barreling to a produce their own unique style.
Check out local winery tours in New Hampshire or book a car service to wineries and vineyards with Lakes Region Airport Shuttle.
Popular Wineries in New Hampshire
Hermit Woods Winery - 72 Main St, Meredith, NH 03253
Hermit Woods Winery is known for unique handcrafted and award wining wines. These wines are all vegan, gluten-free, and organic. They offer wine tastings daily and wine tours on the weekend.
Winnipesaukee Winery - 458 Center St, Wolfeboro, NH 03894
Located 2 miles from downtown Wolfeboro, Winnipesaukee Winery is best known for French oak barrel reds, aged 2-yeards. They offer wine tastings in a beautiful New England barn, offer walks of the vineyard, and have gift/antique shopping.
Gilmanton Winery and Restaurant - 528 Meadow Pond Rd, Gilmanton, NH 03237
Gilmanton Winery has a wide array of wines made seasonally that can be sampled at their tasting room during open hours. There's also a restaurant, perfect for brunch.
Haunting Whisper Vineyard & Spirits - 77 Oak Ridge Road, Route 4, Danbury, NH 03230
Haunting Whisper Vineyard & Spirits is a winery and distillery. Besides wines, they make rum and brandy.
Sap House Meadery - 6 Folsom Rd, Center Ossipee, NH 03814
While not wine in the traditional sense, the Sap House Meadery is well worth the visit. This rustic honey-wine is the oldest fermented drink in the world. They have meadery tours and tastings available and have a pub menu as well.
Remember not to drink and drive! Reserve transportation to wineries, vineyards, and restaurants in New Hampshire with Lakes Region Airport Shuttle.