LR Lately
A Travel Blog by Lakes Region Airport Shuttle
Subscribe to LR Lately
|
View All Posts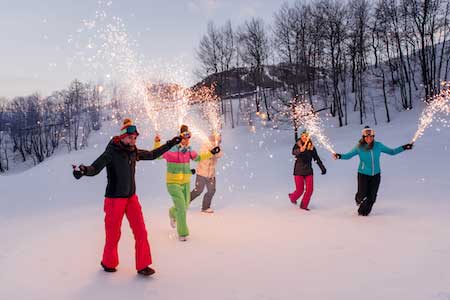 Lakes Region Airport Shuttle
Ring in the New Year in the Lakes Region
Posted On: 12/17/2019
There's no place like New Hampshire to ring in the New Year like the Lakes Region. From romantic dinners to ski resort parties, it's the perfect getaway to start your year off right. There are plenty of activities planned throughout central New Hampshire suitable for a variety of ages and interests.
Grab your skis and start 2020 in the Lakes Region.
Gunstock Mountain Resort Rock's New Year's Eve
An entire mountain is open for your New Year's enjoyment. There's a wide variety of indoor and outdoor activities available including skiing, riding, tubing, snowshoeing, sleigh rides, fireworks and more. The Gunstock New Year ends with a midnight fireworks show and champagne toast.
Wolfeboro New Year's Eve Dinner at The Barn at Pickering House
Celebrate the New Year with a three-course meal in Wolfeboro. Enjoy an evening of live music, great food, champagne, and great views of fireworks over Wolfeboro Bay in The Barn at Pickering House.
Buffet supper features:
Winter Citrus Salad
Herb-Roasted Tenderloin of Beef w/ Bordelaise
Mustard Glazed Faroe Island Salmon
Yukon Gold Potato Puree
Honey Roasted Carrots
Dessert featuring a Mini Sweet Treats Station & Coffee/Tea
Bunyan Room New Year's Eve Party
The Paul Bunyan Room at Loon Mountain Resort features an end-of-the-year edition of the Bunyan's Legendary Nights concert series. A live DJ will be playing hits from the Billboard Top 40 and dance hits from the 80's and 90's to keep you grooving until 1am. There's also a champagne toast as well as hot and cold hors d'oeuvres that are big enough to satisfy a giant appetite. Space is limited, so entry is on a first-come, first-served basis.
New Year's Eve with Bob Marley
Looking to start the year with a few laughs? Comedian Bob Marley as seen on "The Late Show" with David Letterman, "The Tonight Show" with Jay Leno, "Late Night" with Conan O'Brien and "The Late Late Show" with Craig Ferguson with be at the Flying Monkey Movie House & Performance Center in Plymouth, NH.
New Year's Eve Family Celebration and Gala
There's no place to ring in the New Year like Mountain View Grand. The Mountain View Grand will be hosting a New Year's Eve Gala. The gala is held in the Crystal Ballroom offers a formal setting with cocktail reception and dinner. At midnight, welcome in the 2020 with a champagne toast and fireworks display. It makes for the perfect overnight trip.
If you need a ride to any Lakes Region event, contact Lakes Region Airport Shuttle today. We can provide transportation to/from resorts throughout New Hampshire.