LR Lately
A Travel Blog by Lakes Region Airport Shuttle
Subscribe to LR Lately
|
View All Posts
KANGAMANGUS: Sounds Like Harry Potter Spell when Mispronounced
Posted On: 07/07/2015
One of the most scenic drives in the country whether it's fall, summer, spring, or even winter is at the Kancamagus Highway. Its winding roads, scenic stop points, campgrounds, swimming holes, and incredible fall foliage make it possibly the best 34.5 miles you ever spent. But you should make sure to grab some gas before you take the whole route! There are absolutely no gas stations for the entire trip. If you're in it, you're ALL in it! But you should also pronounce it correctly: Kank-ah-mah-gus. Otherwise, you sound like you're trying to execute a spell at the Hogwarts School of Witchcraft and Wizardry...
To get our "official" information on the Kancamagus Highway, we used their "unofficial" website at www.kancamagushighway.com. Using this website, we will talk about various 'Kanc' elements…starting with the waterfalls!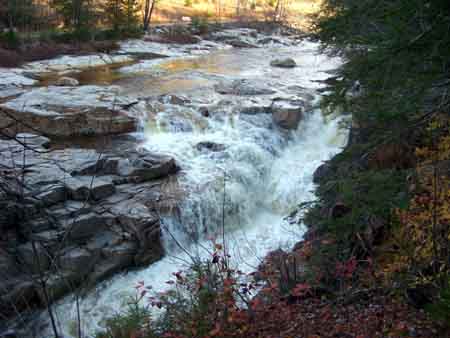 Driving down the highway this weekend, I saw a great many people sitting out on the falls enjoying the water and the rocks around the falls. It was a gorgeous day on Sunday, perfect for swimming and enjoying the outdoors! There are four waterfall destinations on the Kanc: Sabbaday Falls, Rocky Gorge, Lower Falls, and Champney Falls. I believe I drove by Lower Falls on Sunday with tons of young people and families standing over the waterfalls on the rocks. It's views like this that are great to visit on a traveling afternoon when you don't have a set itinerary.
There are more than twenty hiking trails by the Kancamagus as well! Trails range from a half a mile to about 7.5 miles in length! The smallest trail, which is handicapped accessible and best for young families, is called the Rail and River Trail. There are signs all along the trail to explain the history of the area as well as the etymology for some of the highway's other areas. You'll feel like an adventurer on the wooden bridges of this half mile hike!
Wildlife along the trail is also a fun thing to look out for. Deer, bears, and moose are the main large animals that call this place their home. However, you can make a hike even more fun for small hikers who want to identify more wildlife that might be afraid of coming out to "play." I once gathered a few adults for a children's hike to prep the area for animal footprint identification. We laminated some charts with animal prints on them, got to the trail before the children so we could draw some footprints in the dirt, gave out some trail mix, and asked the children to match the footprints on the ground with the ones on their sheets! This is a great activity to do with campers or large groups of kids.
For eating near the highway, you can stop in Woodstock, Lincoln, or Conway! In Lincoln there are some awesome restaurants including The Gypsy Café (A personal favorite) or El Charro.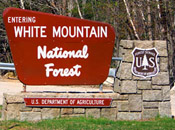 You should also stop at Chutter's, which is a fabulous, old candy counter that is a chain of the original store in Littleton, NH which is the longest candy counter in the world! Way to go, New Hampshire! In Woodstock there is the Woodstock Inn and Brewery where you can grab a rustic meal and some ale! Just across the street from the Inn is a new bakery we shared about on July 3rd on Facebook! It's called Just Ry's Bakery and they sell homemade bread, croissants, muffins, and cookies everyday! You can also grab some coffee to go with your warm, homemade treats.
There is so much to do on the highway but you have to go there to see! Take a day trip over to the 'Kanc' and don't plan anything out. Spend a beautiful afternoon stopping at trails, restaurants, swimming holes, and scenic sites. You'll enjoy it most if you unplug yourself from all mobile devices!
Don't forget to share your photos with the unofficial Kancamagus guide website, and follow us here at Lakes Region Lately for updates on the area and editorials on food, frolicking, and fun!