LR Lately
A Travel Blog by Lakes Region Airport Shuttle
Subscribe to LR Lately
|
View All Posts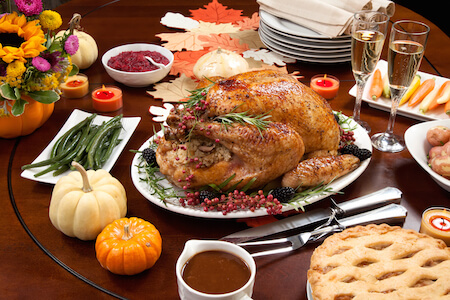 Photo Credit: Lakes Region Airport Shuttle
Holiday Events at Lake Winnipesaukee
Posted On: 11/14/2018
With the official start of the holiday season just around the corner, it is time to start firming up your Thanksgiving plans. One of the best ways to kick off this time of year in New England is to spend part of the holidays in beautiful Lake Winnipesaukee. Thanksgiving in New Hampshire is a magical time of the year that you do not want to miss. Here are a few of the highlights of the Thanksgiving season around Lake Winnipesaukee:
CHRISTMAS AT THE CASTLE - NOVEMBER 17-18 and 23-24: Kick off Thanksgiving with a visit to Lucknow Castle and see how it would have been decked out for the holidays in the early 1900s. Visitors arrive at the Castle in the Clouds by trolley and then can stop at the inviting fire to warm up while at the Carriage House. There are two weekend dates to choose from, either right before or right after Thanksgiving. The tours are open 10 am - 4 pm. Tickets are $20 for adults and $10 for kids 5-17 years of age.
HOLIDAY OPEN HOUSE AT THE LOON CENTER - NOVEMBER 24: The Loon Center at Lee's Mills Road in Moultonborough is the place to be for a variety of exhibits, refreshments, face painting, and kid's craft booths. The much-loved Mr. Phil will be in attendance making balloon figures and a noon visit from Santa and Mrs. Claus will highlight the event.
WOLFEBORO CHRISTMAS PARADE - NOVEMBER 24: Once the turkey dinner has settled, you can start the Christmas season in earnest with the annual Wolfeboro parade. This year's procession will take place beginning at 3 pm. After the parade, guests are invited to the community tree lighting ceremony complete with a visit from Santa Claus at Cate Park located at the Town Docks.
LAKES REGION HOLIDAY ARTS AND CRAFTS FAIR - NOVEMBER 17: Get a jumpstart on your holiday shopping at this popular crafts fair located at the Meredith Community Center. The event runs from 9 am - 2 pm and admission is free.
With all of this fun activity, you will need a reliable transportation service to ensure that you get to your destination safely and in style. Holiday shuttles are an ideal way to travel between activities with your friends and family. The holiday shuttles will take the stress out of your holiday and allow you to relax and revel in the magic of a Thanksgiving in New Hampshire. Make the most out of this enchanting region by taking in all of the charms of the season!