LR Lately
A Travel Blog by Lakes Region Airport Shuttle
Subscribe to LR Lately
|
View All Posts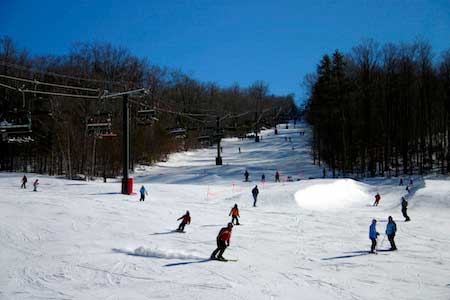 Lakes Region Airport Shuttle
Best Ski Resorts in New Hampshire
Posted On: 11/18/2019
One of the best things to do when visiting New England is staying in a mountain resort. With frosty adventures in the winter from skiing to snowboarding, tubing to snowshoeing, and ziplining in the summer, there is something fun for everyone no matter where your adventure takes you.
New Hampshire has some of the best resorts in the USA for outdoor adventurers of all kinds. When looking for an exhilarating vacation, look no further than any of these options.
The Loon Mountain Resort is one of our top picks when looking for ski resorts in New Hampshire as it has numerous options year-round for travelers, as well as many nearby overnight options within a 10-mile radius. While visiting the resort, take lessons or join a clinic with one of their many trained professionals, zoom down a zipline tour of the mountain, or relax and shop at one of the resorts base centers.
Visiting during the summer months? No problem! Loon Mountain resort is open for guests looking for picturesque hiking and biking trails, relaxing Gondola Skyrides, or just a fun round of disc golf. The options are endless.
One of the benefits of Loon Mountain is the resort transportation. Call up one of two nearby shuttle services to quickly (and safely) get to and from many destinations near and around the resort itself.
Another great choice when looking for ski resorts in New Hampshire is the Gunstock Resort. One of the most unique things about Gunstock is the night skiing for adventurers of all ages. With well-lit trails, lifts, and more, everyone will enjoy a memorable evening on the slopes.
If traveling with younger outdoor adventurers who may not be ready for the slopes yet, Gunstock also offers a Mountain Coaster for those three years and older (other restrictions apply). Zoom down the slopes of their 4100-foot long coaster and get unlimited rides with a two-hour tubing session.
Gunstock is the perfect choice for family-friendly vacations, trips, and weekend holidays. Not only are there options year-round, but also a year-round resort transportation service to make sure you get where you need to go.
Your family will enjoy either of these options when visiting the luxurious mountains of New Hampshire, but they aren't the only choices when visiting. New Hampshire has many selections when looking for the perfect resort such as Waterville Valley Resort, which comes highly rated with firework shows, a nearby quaint town, and festivals that can't be missed and Cannon Mountain resort that has slopes for all ages and experience levels along their beautiful terrain. Whether you're visiting with family or friends, from near or far, New Hampshire has something for everyone.
Reserve a Lakes Region Airport Shuttle to the best ski resorts in New Hampshire!