LR Lately
A Travel Blog by Lakes Region Airport Shuttle
Subscribe to LR Lately
|
View All Posts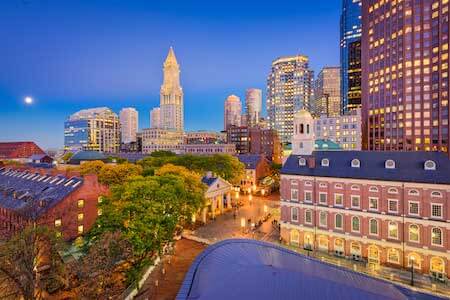 Lakes Region Airport Shuttle
Best Boston Events in May and July
Posted On: 05/16/2019
Going to Boston? From concerts to festivals to baseball games, Boston has something for everyone. If you're headed from the Lakes Region for a night out in the city, start your trip with Lakes Region Airport shuttle.
Plan your next trip to Boston with a Lakes Region Airport shuttle. We offer charter services to events in Boston from Meredith, Wolfeboro, Laconia, and more. Pick from sedans, mini-vans, SUVs, Chevy Express vans, and High Top Ford vans. Our shuttle vans are best option for groups headed for a day out in Boston.
Schedule of Events in Boston
Here are a few of the major events happening in Boston through May and July. Book a shuttle to these are any event in the Boston area with Lakes Region Airport Shuttle.
Boston Ballet Presents Rhapsody – May 16 – June 9 – Boston Opera House
Rhapsody is an international lineup of choreographers who push the boundaries of dance. Rhapsody in Blue is a world premiere and his first work choreographed for the Citizen Bank Opera House stage.
Boston Calling Music Festival – May 24-26 - Harvard University Athletics Complex
Since 2013, Boston Calling has been attracting over 20,000 fans a year. This music festival features a versatile lineup, and 2019 features headliners like Twenty One Pilots, Tame Impala, and Travis Scott as well as comedians like Fred Armisen and Jenny Slate.
June Day Parade – June 3 - Faneuil Hall Marketplace
The June Day Parade is the largest military parade on the East Coast. A tradition since 1638, the parade starts at Faneuil Hall and ends at Boston Common where it's greeted by a volley of cannons.
Boston Pride Week – May 31 – June 10 - Boston City Hall Plaza
The annual Boston Pride Festival is celebrated every June with events across the city. Boston Pride Week includes a Pride Day, festival, and pride parade.
FUNK Boston: A Wild & Sour Beer Fest - June 14-16 - Cyclorama at Boston Center for the Art
FUNK Boston: A Wild & Sour Beer Fest features more than 35 breweries pouring 125 beers. Sessions at the Cyclorama are limited to 700 attendees in order to provide a more fun filled and intimate experience.
Cirque du Soleil: Corteo - June 19 – 30 - Agganis Arena
Cirque Di Soleil Corteo is a magical carnival experience. Corteo offers gravity-defying aerial acrobatics, tightropes, bouncing beds and helium-filled balloons. This Cirque show is sure to leave an impression to last a lifetime.
Ariana Grande – June 22 – TD Garden
Fresh off the heels of her Coachella performance, multiplatinum superstar Ariana Grande 's North American The Sweetener World Tour is headed to TD Garden. Special guests Normani and Social House will also be performing in Boston.
Red Sox Home Games
Going to a baseball game? Lakes Region airport Shuttle can provide transportation from Hew Hampshire to Fenway Park and more.
Boston Red Sox vs Cleveland Indians – May 27 – 29 – Fenway Park
Boston Red Sox vs Tampa Bay Rays – June 7 – 8 – Fenway Park
Boston Red Sox vs Texas Rangers – June 9 – 13 – Fenway Park
If you're headed to Boston reserve a Lakes Region Airport Shuttle today.