Gunstock Mountain Resort Shuttle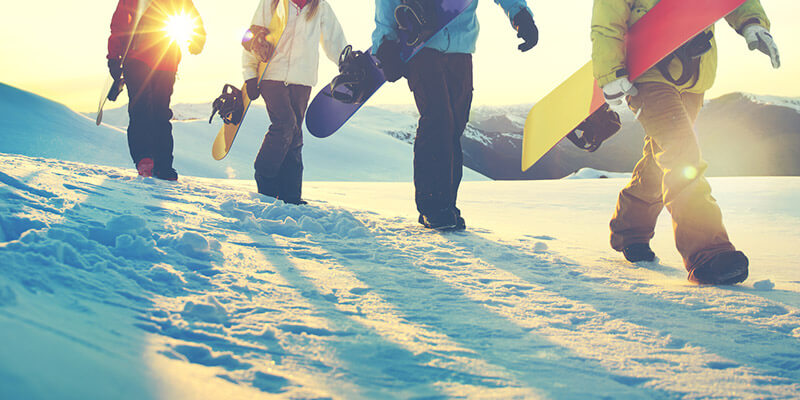 Gunstock Mountain Resort has become a favorite New Hampshire getaway for anyone who lives in Boston and enjoys the great outdoors. Originally known as Belknap Mountain Recreation Area, Gunstock Mountain Resort has been around since 1937 and has a long running history in the New England ski community. Gunstock Mountain Resort had the first chairlift in the eastern United States. However, it has come along way! The mountain now features six lifts with a high-speed detachable quad chairlift to the summit. If you're looking for a ride from Boston, a Gunstock Mountain Resort Shuttle can get you there. Whether you're flying in from Boston Logan Airport or just headed out on a New Hampshire ski weekend, a Lakes Region Airport Shuttle can help start your trip right!
Gunstock features breathtaking views of Lake Winnipesaukee to heart pounding outdoor activities. It's a popular spot for skiing, snowboarding, tubing, and cross-country skiing. Other activities that are more unique to Gunstock include the FatTire Bike and the Mountain Coaster. Night skiing has also become a popular activity on its lower slopes. The mountain doesn't close until after 9 pm! Summer activities include Ziplining, Segway Tours, camping, hiking, and mountain biking. Reserve a Boston to Gunstock Montain Resort shuttle today. Guntstuck transportation is available from New Hampshire, Massachusetts, and more.
We can also offer special event and wedding shuttles to the Gunstock Montain Resort. We have the best group travel options to resorts in Gilford, NH. Our shuttles are also perfect for executive transportation. Head to the Gunstock Mountain Resort for conventions, team building, and more. Reserve a Boston Logan Airpoirt to the Gunsotck Mountain Resort in Gilford with Lakes Region Airport Shuttle and start your ski trip right!
Gunstock Mountain Resort
719 Cherry Valley Road
Gilford, NH 03249
Other Nearby Gilford Resorts
Misty Harbor Barefoot Beach Resort
118 Weirs Rd
Gilford, NH 03249
Gunstock Inn & Resort
580 Cherry Valley Rd
Gilford, NH 03249
Lakes Region Airport Shuttle offers transportation from Manchester and Logan Airport to any Gilford ski resort or hotel. Plan your next trip to Gilford, NH, with Lakes Region Airport Shuttle!
Connect with us!
Receive e-mail offers and updates or follow us on Facebook!
Why Choose Us
Flexible Charter Services
Manchester to Boston Shuttles
Safe and Reliable
On-Time Guarantee
Convenient and Affordable
Book Secure Online Reservations 24/7